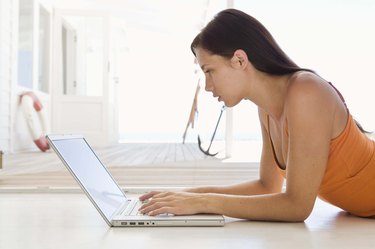 Toshiba laptop computers use multi-function touchpads, which often have software features added to the touchpad manufacturer's basic package. If your Toshiba laptop's touchpad won't scroll but its other functions are working, you may simply need to adjust your settings. If the problem occurs suddenly, try restarting your computer before resorting to other methods. Sometimes the addition of new software or other features can interfere temporarily with the touchpad driver, interrupting the scrolling feature. If a simple restart does not restore your touchpad's scrolling feature, check its properties through the control panel. The exact options for doing so will vary by laptop model and operating system.
Step 1
Click "Start," then "Control Panel." Navigate to "Mouse," which may be under "Hardware and sound" or a similar category, depending on your operating system.
Step 2
Select the "Touchpad" tab in the "Mouse" window. This tab will also list the touchpad manufacturer, most often Synaptics on Toshiba computers. If you have more than one built-in pointing device, as is the case with the touchscreen model Toshiba Portege series, choose the "Hardware" tab and select your touchpad, then click "Settings."
Step 3
Select "Properties," "Settings," "Advanced" or the similar option on your system.
Step 4
Click the box next to "Enable scrolling" if this option is available. For Synaptics touchpads, you may have a list of options; click the arrow to the right of "Scrolling" to open the scrolling list and select one-finger or two-finger scrolling to access the specific features.
Step 5
Click to enable any scrolling features you desire, then select "Adjust scrolling region" or the similar option, if available.
Step 6
Drag the scrolling region to cover a larger portion of the touchpad if you want to ensure you can scroll easily.
Step 7
Click "Ok" to apply any changes and close the options windows. Keep clicking "Ok" until all of the windows with this option are closed.
Step 8
Restart your computer if prompted. Your scrolling feature should be enabled.