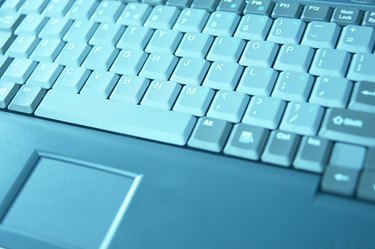 Toshiba laptops use touchpad software from the Synaptics company. This software allows for a wide variety of functions, some of which must be set by the user. Scrolling with your touchpad can make viewing documents and web pages easier because all you have to do is drag your finger to move the page up and down or side to side, rather than having to move your pointer over to the scroll bars, which can interrupt typing flow. The method of accessing the touchpad settings varies slightly by laptop model and operating system.
Step 1
Click "Start," then "Control Panel," which may be under "Settings" in some versions of Windows.
Step 2
Select "Mouse." If you are in "Category" view in newer versions of Windows, click "Hardware and Sound," then select "Mouse" from under "Devices and Printers."
Step 3
Select the "Device Settings" tab. It may be labeled "Touchpad" on some systems, but will have the red Synaptics logo on the tab.
Step 4
Click "Settings" or "Advanced."
Step 5
Click the plus sign next to "Scrolling" and select "One-Finger Scrolling."
Step 6
Select the boxes that say "Enable Horizontal Scrolling" and "Enable Vertical Scrolling" to place check marks inside them, and then click "Apply."
Step 7
Click "Scrolling" from the left menu and drag the slider left or right to set your scrolling speed. Click "OK."
Step 8
Drag your finger along the right edge of your touchpad to scroll up or down; the screen will scroll in the direction of your motion.
Step 9
Drag your finger across the bottom of your touchpad to scroll left or right.
Step 10
Return to the "Device Settings" tab later if you want to make further adjustments to your touchpad's scrolling action.