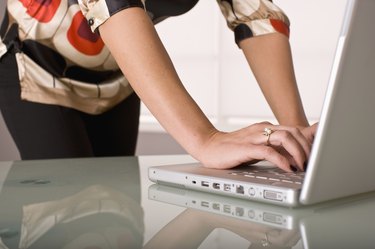 Acer laptop computers are installed with a touchpad below the keyboard's spacebar. Manufactured by Synaptics, the touchpad serves the same purpose as a traditional computer mouse but conserves space and enhances laptop portability since there is one less peripheral to pack and carry. Among the touchpad's features is a one-touch scrolling function that lets you move the viewing area on the screen up or down quickly by sliding a fingertip.
Step 1
Turn on the Acer laptop or notebook and logon using your password. Type the password into the blank field on the main login screen and press the "Enter" key.
Step 2
Open any application or a web browser by double-clicking your choice from the icons on the laptop screen, or select a program by clicking the flag button in the lower left and clicking "All programs" to pick one from the list..
Step 3
Press and hold your fingertip on the right side of the Acer touchpad between the up and down arrows.
Step 4
Slide your fingertip on the touchpad toward the up arrow to scroll the screen up. Side your fingertip toward the down arrow to scroll the screen down. Remove your finger at any time to stop the scroll function.