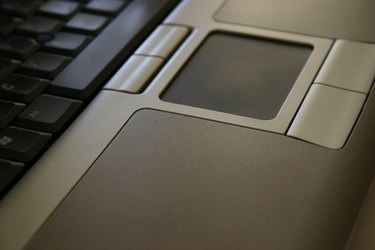 The scrolling feature on a laptop touchpad can take some getting used to, which causes some users to disable the feature. Whether scrolling was intentionally turned off or never enabled on the laptop, it can easily be turned on from the "Mouse Properties" menu.
Step 1
Click "Start" (or the Windows logo button in Vista and Windows 7) and select "Control Panel." Select "Classic View" in Vista if not already displayed. Double click "Mouse."
You may also access "Mouse Properties" in Vista and Windows 7 by clicking the Windows logo and typing "Mouse" in the search box. Press "Enter," then click "Mouse" when the search is finished.
Step 2
Select the "Hardware" tab. Select the touchpad and click "Properties." Click "Change Settings" if the settings aren't displayed.
Click the "Device Settings" tab in Windows 7 and select the touchpad. Click "Settings."
Step 3
Click "Virtual Scrolling" in the touchpad properties window. Click the boxes next to each "Enable Scrolling" box and click "OK." Scrolling is now turned on for your touchpad.