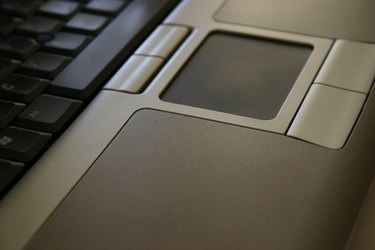 Synaptics is a computer hardware company that manufactures touchpads for laptop computers. The touchpad is the rectangular area below the keyboard on a laptop which is used instead of a mouse to move the pointing cursor on the screen. Enable the Synaptics touchpad on your laptop computer if the pointing cursor does not respond when you move your finger across the touchpad's surface.
Confirm That the Synaptics Touchpad Driver is Installed
Step 1
Connect an external pointing device such as a USB mouse to your computer if you are unable to control the mouse pointer at all. Press the Windows logo and "R" keys on the keyboard simultaneously to open a "Run" dialog box. Type "devmgmt.msc" in the dialog box and press "Enter." Your computer's device manager will appear.
Step 2
Double-click the "Mice and other pointing devices" category in the device manager to expand it. Confirm that a device with "Synaptics" in the name is displayed here (such as "Synaptics PS/2 Port Pointing Device"). If you do not see a device with "Synaptics" in the name, your computer does not have a Synaptics touchpad or the driver is not installed.
Step 3
Install the driver for your Synaptics touchpad if needed. Drivers are available from the Synaptics website (see "Resources"). However, you should check your computer manufacturer's website for specific drivers for your computer first. Only install the touchpad drivers from the Synaptics website if specific drivers for your computer are not available. If the Synaptics touchpad is displayed in the Device Manager, close the window and continue.
Enable the Synaptics Touchpad
Step 1
Look for a small button immediately above or below the touchpad. If you see a button, push it. Some laptops have physical buttons which can be used to enable and disable the touchpad. If you find a button and push it and the touchpad begins working, stop here. If not, continue.
Step 2
Click the "Start" button, then click "Control Panel." Double-click the "Mouse" icon in the Control Panel window. If the Mouse icon is not displayed, click "Switch to Classic View" or "View by: Small icons."
Step 3
Click the "Devices" tab at the top of the Mouse Properties window. If you do not see a Devices tab, click the "Device Settings" tab.
Step 4
Click the "Enable" radio buttons under both "TouchPad" and "TouchPad Buttons."
Step 5
Click "OK" and close any open windows to resume using your computer.