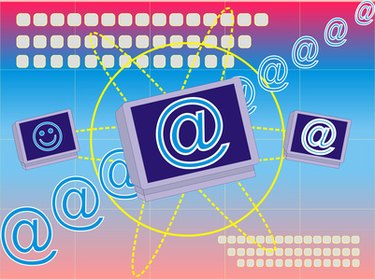 Microsoft Remote Desktop is a client application that allows you to access and control the resources and data of a remote, or host, computer using an Internet connection. It is, in essence, remote control software. Remote desktop capabilities allow you to access a work computer from home whether or not the work computer connects to a network.
Availability
Availability depends, for the most part, on the operating system of the remote computer. The client computer, or computer you are connecting from, can use any operating system from Windows XP Professional on up. The remote computer, however, must use XP Professional, or Vista Business, Ultimate, or Enterprise operating system editions. Remote Desktop is not active by default, so you will need to enable it on both the client and host computer, from the Windows Control Panel "System and Maintenance" section prior to using.
Requirements
The host computer should have "Sleep" or "Hibernate" settings set to "Never," as a remote desktop connection requires the host computer be on and in an active state. An Internet connection provides network access, and you must possess permissions that provide access to the host computer. Either you or your network administrator can add your username to the list of Remote Desktop Users from the Windows Control Panel "System and Maintenance" section. In addition, you need the full computer name of the host computer. The full computer name is available from the Start menu "Welcome Center."
Process
When you begin a remote desktop session, the client computer sends a signal via a standard "listening" port 3389 over the Internet to the host computer asking for permission to connect and log on. The host computer responds by asking for your logon credentials, which it verifies against a list of Remote Desktop Users using an internal authentication process. Once you log on, display data and keyboard strokes transmit from the host to the client computer, allowing you to view and work with the host computer as if you were sitting directly in front of it. One thing to keep in mind is that Remote Desktop allows only one connection. If someone attempts to use the host computer, your remote connection will automatically terminate.
Security
Microsoft provides a number of security-related features you can use to increase the security of a remote desktop connection. You can limit the number of users able to connect, set an account lockout policy, require passwords, encrypt data transmission, change the port the client computer "listens" on and set up an IP address "White List." A periodic check of the Microsoft Event Viewer will provide a report containing failed logon attempts and account lockouts. The Event Viewer is accessible from the Control Panel "System and Maintenance-Administrative Tools" section.
Considerations
If you are connecting a home computer to a computer on a business network, firewall issues may require an additional step before the computers can connect and communicate. Establishing a Virtual Private Network (VPN) is one way to accomplish this. Another way is to use a Terminal Services Gateway server. Both methods require set up by either a network administrator or member of the technical support staff.