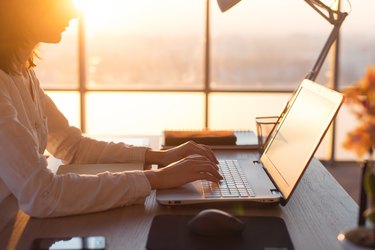 If you are in the process of erasing all traces of a program from your computer or are attempting to manually remove viruses or adware, use the Registry Editor utility to access the HKLM/Software section of the Windows 8 Registry. The Registry is a database used by Windows to store its settings and options. Most programs you install on your computer create keys in the HKEY_LOCAL_MACHINE/Software section of the Registry. These keys contain configuration settings, paths to various files and even uninstall information. When you uninstall programs, their keys might not be removed from the Software section. Note that deleting entries from the Windows Registry is dangerous; you may cause programs to malfunction and even crash the entire operating system.
Step 1
Press "Windows-R" to display the Run dialog box. Type "regedit.exe" (without the quotes) into the Run field and then press "Enter" to open the Registry Editor. Using the Registry Editor, you can browse through the Windows Registry and delete keys or modify values.
Step 2
Double-click "Computer" to expand it and display its keys. Double-click the "HKEY_LOCAL_MACHINE" key to expand it and then double-click the "Software" key to expand it. Most programs create their registry entries in this section. The keys are named after the software manufacturer -- Adobe or Microsoft, for example.
Step 3
Select any of the keys and press "Delete" if you want to erase it. Click "Yes" to confirm and permanently delete the key from the Registry. Double-clicking one of the keys expands it and reveals additional sub-keys and values.