PowerPoint inserts slide numbers via its Header and Footer menu, but their position on a slide depends on the template you're using. Some templates place numbers in the footer area; others are part of the design and appear elsewhere on the slide. To change default numbering after you've enabled it, you can set a different start number, customize number style or move the number box to change its position.
Add Slide Numbers
Step 1
Open the Insert tab and select the Slide Number button to open the Header and Footer menu.
Step 2
Select Slide and check the Slide Number box. You can see where the number will appear on the slide in the Preview pane. Select Don't show on title slide if you don't want a number to appear on this slide. Select Apply to add a number to just this slide or Apply to All to add numbers to all slides in the presentation.
Set a Different Start Number
Step 1
If you don't want your numbering to start at 1, open the Design tab and select Slide Size in the Customize area. Select Custom Slide Size.
Step 2
Change the counter in the Number slides from box to the first number you want to use on the presentation. Select OK to apply the change.
Change the Format of Slide Numbers
Step 1
Select the number in the Footer area and highlight it.
Step 2
Open the Home tab and use the tools in the Font section to change the number's font, size and color, or to add effects such as bold or italic.
Reposition Slide Numbers
To change the placement of numbers on the slide, edit the master template.
Step 1
Open the View tab and select Slide Master.
Step 2
Select the first slide in the list to open it on the screen.
Step 3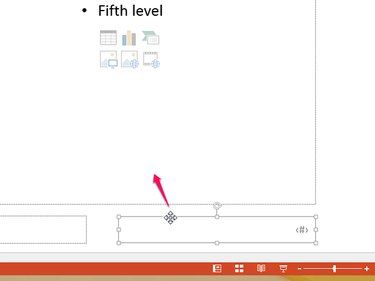 Select the number to enable its text box. Hold your mouse over a line until the cursor turns into a cross. Drag the box to its new position.
Step 4
Select Close Master View to return to the presentation.