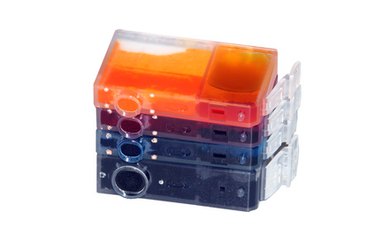 Hewlett-Packard offers a wide range of printers that are user friendly and easy to maintain. HP printers use ink cartridges to print documents, photos and other items. When you replace a low-quality or empty ink cartridge, it's imperative that you align all of the printer's ink cartridges. Also make sure to align the ink cartridges after a big print job, which can result in the cartridges becoming misaligned and ultimately cause misaligned text. HP has created their products with novice users in mind, so you can align the print cartridges easily using your computer.
Step 1
Press the power button on the HP printer. Place at least one piece of paper on the input tray.
Step 2
Click the "Start" button located on the bottom left of your computer screen; this will bring up a small menu. Click "All Programs to bring up a list of all programs currently installed on the computer. Locate the HP folder and highlight it by moving the cursor to the folder. The folders appear in alphabetical order and should be located in the middle of the list. Select "HP Solution Center" and wait for the program to load.
Step 3
Click the "Printer Settings" tab and then click the "Printer Toolbox" within the printer settings.
Step 4
Click the "Device Settings" tab; this will list options to service the unit and change specific settings. Click "Align the Print Cartridges" and press "OK."
Step 5
Wait for the HP printer to print a cartridge alignment sheet. When the alignment sheet is done printing, wait for the "On" light to stop flashing. Once the flashing has stopped and the "On" light is steady, the alignment is complete and the printer is ready for use.