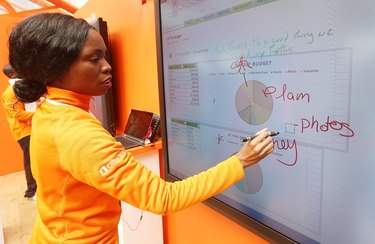 In its 2013 edition, Microsoft Access -- a database management tool that's part of the Microsoft Office suite -- focuses on apps, enabling you to create interactive Web apps for data entry alongside traditional desktop databases. Many features from previous versions of the software remain in Access 2013, including the ability to auto-fill forms. With this feature, Access automatically fills in fields that might become repetitive if entered manually -- for instance, a product's serial number can be set to instantly appear when you type in the product name.
Step 1
Enable connections between tables to ensure that they share a relationship -- without relational data, you can't auto-fill in Access 2013. Relate tables by entering the Table Designer and viewing the table of your choice. In the Data Type tab, choose "Lookup" from the drop-down menu to launch the Lookup Wizard window. Select the option "I want the lookup field to get the values from another table or query." Ensure that this option is selected for all tables you wish to connect.
Step 2
Choose the connected table of your choice in Table View, then click the Property Sheet tab. Select "Event." In the After Update section, click on the button with the ellipses and choose "Code Builder" from the menu that appears, then click "OK" to confirm the choice.
Step 3
Type the name of the field for which you wish to enable auto-complete. For example, if you want to fill in the fields you've named "ProductName" and "Serial" based on existing data, type "ProductName" and "Serial" -- exactly as you've spelled those fields, including the proper case -- into the form. Join the fields with "=," leaving a space on either side of the "=." Now, when you type a product name in a new table, or update an existing table, Access will automatically fill in the serial number field. You can also choose from previously-entered prices via a drop-down menu.