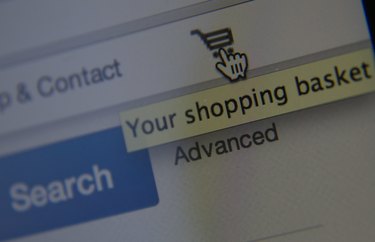 A variety of people have sold goods on eBay. Maybe you have. Instead of hosting a garage sale, you simply post photos online of your knick-knacks then sell everything you can. Many people do this once or twice a year. eBay Resellers, however, attempt to make a living buying products wholesale then selling them at a profit via their own eBay stores. Many people currently make a lot of money and a comfortable living off e-Bay sales. If you own an online e-commerce business or would like to start one new and mimic the success of so many people, you might find yourself amazed at just how easy you can become a reseller.
Step 1
Decide if you want to operate a used reseller store or a bulk reseller store. Used resellers scour garage sales, flea markets, and swap meets for deals that they can post on their e-Bay reseller store. Bulk resellers frequent sites like Liquidation.com and Police Auctions.com for bulk deals. Bulk resellers also setup accounts with wholesale dropshipping companies like Doba or CWR Electronics that process orders and mail the product directly to the customer
Step 2
Setup your online store. Open an auction account at e-Bay. Once you open a basic account, you can then go into your auction control panel and select "Setup My Store" and setup an auction reseller store. An auction reseller store allows you to brand your webpage with your own logos, colors, set prices, inventory amount, and update the products when you run low on inventory.
Step 3
Decide if you want to specialize or offer a combination of products. In order to build your "brand name," your store should have some sort of focus. You can focus on one product or a combination of related products. Although many people advise focusing on related products, some stores find success by creating a general brand that represents a variety of unrelated products.
Step 4
Obtain your products. If you operate a used reseller store, you need to hit garage sales often and early. Look on Craigslist for free items in your area. Setup accounts at local self-storage facitlities. If people default on the storage unit, the storage facility sells the property on a high-bid, sight-unseen basis. If you offer the winning bid, you could obtain a lot of used goods at a low cost. Wholesale sellers need to watch wholesale websites like CWR and purchase products when they become available.
Step 5
Follow some common best practices when you setup your store. For instance, if you list items with pages of text, people have a hard time reading it all. Be concise. Use short paragraphs and some bullet points to highlight features. Other best practices include uploading quality photos of your products, aiming too high or too low on your price, assigning reasonable shipping fees.
Step 6
Make sure you have enough startup capital. Buying a few items at a garage sale doesn't cost much, but if you buy bulk items, you might need hundreds of dollars just for one purchase. Although you can become a resellers for $10 to $100, you need to make sure you have additional money on hand. If you have $2,000 to $3,000 dollars ready, you can take advantage of good deals immediately.
Step 7
Vary some product purchases according to the season. For instance, in February through April, Xbox 360 game consoles don't sell well on eBay, but you can buy them for $70 to $100 per console off eBay or buy them in lots of 10 from sites like Liquidation.com. Throughout August and September, however, prices quickly increase to $100 to $130 per console, and you can sell your pre-purchased goods readily throughout the pre-Christmas season.
Step 8
Open a Paypal account. Paypal lends your store credibility, and it ensures your customers can make secure purchases. A Paypal account frees you to purchase and sell rather than worrying about financial transactions.