Opera 30 has no parental control features or native way to entirely block specific websites. You can specify if an individual website can run JavaScript, set cookies or display images, but you cannot block a site completely. While a few Opera extensions exist that provide some of this capability, the best way to block websites in Opera is to use Windows built-in website-blocking capabilities available through the Family Safety Filter.
Blocking Using Windows Family Safety Filter
Windows 8.1 ships with a Family Safety Filter that can track your child's Web-browsing activities and filter -- or block -- Web content. To set this up, you need to be signed in with an administrative account, create a user account for your child, and then customize her Web-browsing permissions using the Family Safety Filter.
Set Up a Child User Account
Step 1
Ensure that you are signed in to your PC with an administrator account. If this is your PC and you set it up yourself, then it is likely that you are.
Step 2
Search for the keyword "user" and select User Accounts.
Step 3
Step 4
Choose Add a child's account.
Step 5
Click Next if your child has an email address with which to log on.
Click Sign Up for a New Email Address if your child has no email address and you want to create one for him with which to log on.
Click Add a child's account without email if your child does not have email, or you don't want him to sign on using an email account.

Step 6
If you chose Add a child's account without email, create a username and password, along with a password hint. Be sure this is something your child can remember.
If you instead choose to have your child sign on with email, enter the email address or click Sign up for a new email address and follow the prompts to create the new user account.
Block Websites Using Family Safety Filtering
Step 1
Press Windows-X to open the Power User menu and select Control Panel.
Step 2
Choose Set up Family Safety for Any User in the User Accounts and Family Safety section.
Step 3
Choose your child's account, in this example, "Fudge."
Step 4
To block a website, choose Web Filtering.
Step 5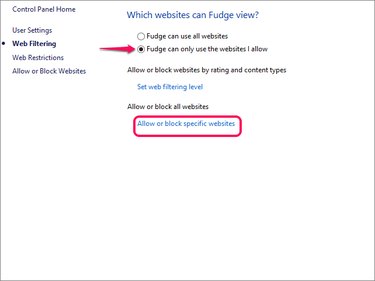 Click the ratio button Fudge can only use the websites I allow and then select Allow or block specific websites.
Step 6
Enter the address for any website to block and then press Block. Blocked websites display under the Blocked Websites column.
Controlling Website Permissions Using Opera's Controls
While Opera cannot block websites, it does provide options to control a website's activities, such as whether it can display images, run JavaScript or run plug-in content. Access these options on the Settings menu by selecting the Opera tab, and clicking Settings.
To selectively block these elements, choose the relevant options and then click Manage Exceptions.
Opera Extensions to Control Website Permissions
While Opera is not widely extensible, there are a few extensions available that can help you block Web content: