Internet Explorer's pop-up blocker is on by default, but you can turn it off if you don't want to use it. Its default settings don't block all pop-ups and don't allow for sites where pop-ups are a feature rather than an advertisement, but you can change its settings to customize how it works.
Turn Pop-up Blocker On and Off
Select the gear wheel icon and open Internet Options.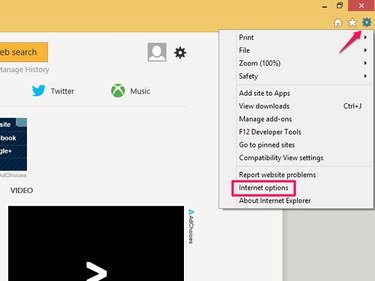 Select the Privacy tab. Check the Turn On Pop-up Blocker box to turn it on or uncheck it to turn it off.
Select OK or change settings to customize the blocker.
Change Settings in Pop-up Blocker
When you enable the pop-up blocker, it defaults to blocking pop-ups from most websites, giving you an alert whenever it blocks. You can change its settings to apply to all pop-ups or switch to a lower security level. If the blocker prevents you from accessing a website correctly, customize the tool to whitelist the site, setting it as an exception to allow its pop-ups.
Select the gear wheel icon on an Internet Explorer page and select Internet Options. On the Privacy tab, select Settings in the Pop-up Blocker area.
To whitelist a site, type its URL in the Address of Website to Allow: box and select Add.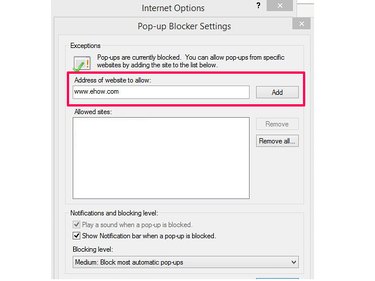 Tip
To remove a site from the allowed list, highlight it and then select Remove, or select Remove All to delete all sites in the list. Select OK to confirm the deletion.
Internet Explorer displays a notification bar when it blocks a pop-up. If you don't want to see this message, uncheck the Show Notification Bar When a Pop-up Is Blocked. To change the default security setting, choose an option from the Blocking Level menu. Select High to block all pop-ups, Medium to block most and Low to allow access from sites that Internet Explorer considers to be secure. When you're done, select Close.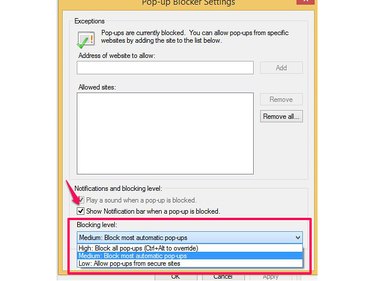 Manually Manage Blocked Pop-ups
If you enable pop-up notifications, you can control pop-ups on the page. On the message, select Allow Once to allow pop-ups for the current browsing session only. To add a site to the blocker's whitelist, select Options For This Site and Always Allow. More Settings takes you to the Internet Options menu.
Tip
If your only problem with pop-ups is the way they clutter up your screen, change settings to open them in a new tab or window. Select the gear wheel icon and go to Internet Options. Open the General tab and select the Tabs button. Check the button next to Always Open Pop-ups in a New Window or Always Open Pop-ups in a New Tab and select OK.

Internet Explorer only blocks pop-ups; it cannot identify problems with them or their websites. To set alerts to help identify security threats, such as phishing or malware, enable Microsoft's SmartScreen Filter.
The Privacy tab in Internet Options controls other privacy options. For example, use it to set cookie rules, to block sites from requesting your location and to manage private browsing sessions.

Warning
Internet Explorer's Pop-up Blocker only blocks automatic pop-ups. If you manually select a link to a pop-up, it will still open.