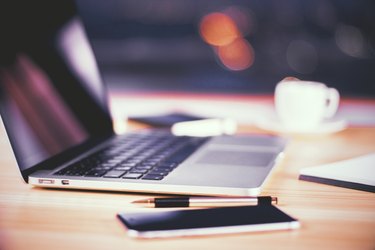 Cell phones vary in how they transfer media to a computer. Most cell phones connect to the computer via a USB port with a cord designed specifically for your cell phone. Sometimes a specific software comes with your cell phone and must be installed on the computer before you can transfer any files to and from the phone. In most cases, when your phone is connected to the computer, it is read as an external drive, which is the optimal scenario for transferring songs from your cell phone to be burned to disc on your computer.
Step 1
Plug the cell phone into the computer using the USB cord. If a dialog box does not open, offering to let you view the files, navigate to the cell phone using your file explorer. It should show up as a disk letter such as "F" or "G" in the left pane of the explorer.
Step 2
Search through the files on the phone for the desired music media. For the CD software to recognize the files, they must be in WAV, MP3, WMA or similar formats. Some songs, like 30-second ringtones downloaded from an external site, are not readable and thus cannot be burned onto disc.
If you are unsure of whether you can burn the files onto disc, try opening the file on your computer's media player. If it cannot open the file or read the extension, chances are it won't work.
Step 3
Open the CD-burning software and navigate to the burn pane. Drag and drop files from the phone into the burn pane.
Step 4
Insert the blank CD into the CD drive of your computer and select the "Start burn" command on the software. Make sure you have closed out of any other applications, as other processes can impede the burn cycle.
Step 5
Eject the disc after burn completion if the software does not do so for you. Unplug the phone from the computer. In some cases, a gray and green hardware icon appears in the bottom right corner of your screen, known as the system tray. Right-click this icon, select "Safely Remove Hardware" and click "OK" to safely unplug your phone.