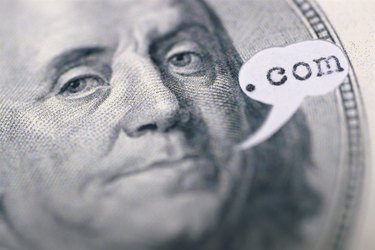 Before you sign up for Web hosting and start building a website, you need to buy the domain name where visitors will find your site. Hundreds of different registrars sell domains, so first and foremost, know that domain names work the same no matter which registrar you use. You don't need to buy your domain from the same company that will host your site. Aside from picking a registrar -- and, of course, your site's name -- you also need to pick a top-level domain like .com or .org.
Picking a Registrar
Many registrars offer frequent sales and extra features to bring in customers, but no matter where you shop, the domain name you buy is identical. Every registrar offers DNS settings, which you use tie your domain to your Web host. As with any other product, shop around based on prices, customer satisfaction and extras to get the best deal.
While looking at domains, you might come across the name "ICANN" -- the Internet Corporation for Assigned Names and Numbers. This organization accredits some registrars that agree to a set of operational standards, but ICANN accreditation isn't required to sell domains, nor is it necessarily a sign of a company with good customer service. In fact, ICANN plays no role in the sale of many top-level domains, including country-specific domains.
Picking a Top-Level Domain
For the most part, you can pick whichever TLD you prefer, though a few have restrictions -- you can't buy a .edu domain unless you run an accredited post-secondary school. Many, but not all, country-specific domains (.us, .uk, .jp) are restricted to citizens of the country in question. Unrestricted country domains are often used for "domain hacks," where the extension becomes part of the title, such as YouTube's alternate address, "youtu.be."
Not every registrar sells every top-level domain, so if you want an uncommon TLD like .pizza, you might have to try a few registrars. Unusual TLDs often cost more than a standard .com address, but provide built-in memorability and give you more name options, since far fewer .pizza addresses are already taken. You can check name availability at any registrar that offers the TLD you want.