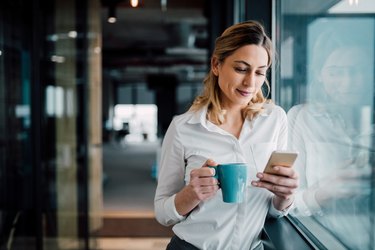 A SIM card is a small circuit board that you put inside a cellphone so that it can connect to a carrier's network. You usually get a SIM card that works with your phone when you buy the phone through the carrier, but you can buy a SIM card separately from the carrier. Sprint SIM cards are available online or in a Sprint store either with a phone or without one. If you're moving a phone to the Sprint network, make sure that it's unlocked and able to receive a new SIM card.
How SIM Cards Work
A subscriber identity module (SIM) card contains digital data used to identify a phone and its user. It enables the phone to connect to a particular carrier's network to make calls, send texts, and send and receive data.
The SIM card in a phone is typically removable, so you can swap out a SIM card for one carrier and insert another SIM card for a different carrier to switch phone companies. If you're temporarily traveling internationally and can't use your home phone network SIM card, the ability to change SIM cards is useful. The SIM card is usually inserted into a slot on the phone. Some phones accept multiple SIM cards so that they can connect to multiple networks at once or easily toggle between networks.
Different sizes and types of SIM cards are available, and not all are compatible with all phones. You can buy an adapter to use smaller SIM cards with larger SIM card slots, but they may not work with every phone. If you're getting a new SIM card for your phone, make sure it is compatible and that you have any necessary adapters to make it work.
Get a New Sprint Phone
One way to get a new Sprint SIM card is to get a new Sprint phone from Sprint. The phone comes with a SIM card that connects the phone to the Sprint network.
You can buy a Sprint phone and sign up for a plan by visiting a Sprint store or by ordering one online through the Sprint website. Pick out a plan that makes economic sense for you by considering the amount of data and call time included in the plan. Consider plans sold under the Sprint name or under its Virgin Mobile and Boost Mobile prepaid brands. If you're moving a number to Sprint from another carrier, work with Sprint to make sure the number is successfully ported to your new phone and SIM card.
If you're upgrading an existing Sprint phone, Sprint typically provides you with a new SIM card if your old one isn't compatible with your new phone. However, you may be able to transfer the old phone's SIM card to a new phone if you don't want a new SIM card.
Sprint BYOD Plans
Sprint, like other carriers, offers what's called a bring your own device (BYOD) or bring-your-own-phone plan. The Sprint bring-your-own-phone plans allow you to move an existing phone that you bought from another carrier or online to Sprint and receive a SIM card that enables it to work on the Sprint network. Because of differences in the frequencies and telecom standards that various phones use, not all phones are compatible with all carriers.
Work with Sprint by visiting a store or calling customer service to ensure that you get a SIM card that is compatible with your existing phone. Note that some phones are carrier-locked, meaning they only work with the carriers that sold them. Contact your old carrier if you need help unlocking your phone to move it to Sprint.