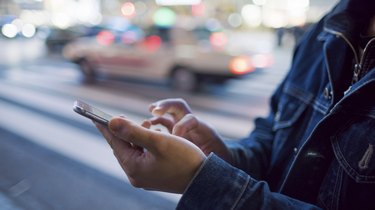 MetroPCS, also known as Metro by T-Mobile, is a prepaid cellphone service available from T-Mobile USA. If you move your service and MetroPCS number to a new phone, you must put a MetroPCS SIM card in the new phone and go through the MetroPCS activation process. You can do this online or in a MetroPCS store. You can add a new MetroPCS number and line to your account by contacting the company.
The MetroPCS Activation Process
If you have a phone that's compatible with MetroPCS, you can put a MetroPCS SIM card into it and activate it online. Order a SIM card and a phone (if you need one) from MetroPCS online, or pick them up in either a MetroPCS store or another store that sells MetroPCS products.
You can use a phone you previously used with another carrier if it's compatible with MetroPCS and not locked to your previous carrier. Check online or over the phone to see whether your phone is compatible with MetroPCS. Search online or contact your old carrier for help unlocking your phone if necessary.
If you're a new MetroPCS customer and have your phone and SIM card, visit the MetroPCS website and click "Activate One Phone" or "Activate Multiple Phones," depending on how many phones you have. Follow the instructions online, paying for service with a credit or debit card if necessary, to activate your phone.
If you're porting a phone number from another carrier, have on hand the phone number and – if you have one – your old carrier PIN.
Have Metro PCS Switch Phones
If you already have MetroPCS service and want to move it to another phone, be sure the phone is compatible with MetroPCS by checking online. Or, purchase a phone from MetroPCS online or from a store.
If you want to move data from the old phone to the new one or simply want to back it up, follow instructions from each phone's manufacturer to transfer data or back it up to a cloud-based system or computer. Contact MetroPCS or the phone manufacturers if you need help with this step.
Then, move the SIM card from your old phone to a new phone.
If the old SIM card is a format that doesn't work in your new phone, contact MetroPCS for a new SIM card. Once the proper SIM card is loaded into the new phone, visit the MetroPCS activation site and click "Change/Upgrade Phone."
Have your account information handy and follow the instructions to set up service on your new phone.
Call or Visit a Store
If you want to activate a MetroPCS phone, but you either don't want to do the MetroPCS activation process online or are having trouble getting MetroPCS to change the phone tied to your account, contact MetroPCS customer service by phone or stop by a MetroPCS store.
Have your new and old phones handy, as well as your old phone number, carrier PIN (if you have one) and passcodes to log into each phone.
Take a method of payment if you need to pay for service on the MetroPCS plan.