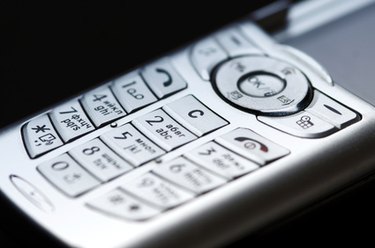 Purchasing a new cellular phone is expensive, while simply using an old one provides the same functionality without the out-of-pocket costs of upgrading. Activating an old phone for AT&T service is also very convenient for people who have lost or broken a phone and simply need something to keep them connected. You will need to call AT&T customer service or visit an AT&T store in person with the old phone in tow.
Step 1
Check that the phone is in working condition. Charge the battery completely and turn the phone's power on. Check each of the keys for proper functionality. Locate the phone's SIM card slot (usually underneath the battery) and remove any SIM cards that are still in the phone.
Step 2
Dial *#06# from the cell phone. Write down the 15- to 17-digit number that pops up. This is the phone's unique International Mobile Equipment Identity (IMEI) number. You will need to have this on hand when you activate your phone.
Step 3
Contact AT&T consumer sales at 888-333-6651 or visit the AT&T's Store Locator at att.com/storelocator/ to find the branch nearest you. Have your phone and IMEI number available for whichever option you choose.
Step 4
Tell the representative that you would like to activate a new line. Choose a new plan based on your needs (either a one- to two-year contract or prepaid). Provide the phone's IMEI number and pay any up front fees associated with your wireless plan. AT&T will issue you a new SIM card with your plan loaded on it.
Step 5
Insert your SIM card into your AT&T phone, turn it on and make a call to ensure the phone is working properly. If you decide to activate your old cell phone by calling customer service, you will have to wait until your SIM card arrives in the mail to use the cell phone.