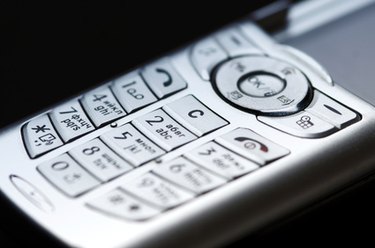 Pre-paid cell phone plans are convenient because they allow you to have a cell phone without being tied down to a contract or having to deal with monthly bills. Pre-paid cell phones are also generally cheaper when they are bought up front than many phones that come with a plan. You can even use a pre-paid cell phone on an existing Verizon plan, if your original phone is lost, damaged or stolen.
Step 1
Purchase a Verizon or Alltel pre-paid cell phone. For a cell phone to work on Verizon's wireless network, it must be e911 compatible, branded by the manufacturer for Verizon or Alltel and compatible with a Verizon plan or a plan converted to Verizon from Alltel. You may need to talk to a customer service representative at Verizon to make sure your pre-paid phone is compatible. The number for regular plans is 800-922-0204.
Step 2
Log in to your Verizon wireless account on the Verizon website. If you have not registered yet, click on the "Register" link and enter your phone number and the billing password you set up with Verizon customer service. Follow the prompts to set up your log-in information.
Step 3
Click on the "Account" tab on your home screen. This brings up your account overview. Do not click on any of the options that come up when you hover the mouse over the "Account" tab.
Step 4
Turn off your old phone. If you do not have access to it, because it was lost or stolen, click on the link saying "Suspend/Resume Service," choose the number from the drop-down menu and click on the "Next" button.
Step 5
Choose the option that says "Activate Phone" from the list under the heading "I Want To..."
Step 6
Enter the ESN or MEID number from the pre-paid cell phone into that labeled field on the screen and choose the phone number you want to use it with from the pull-down menu underneath. Remove the back cover from the pre-paid phone you want to activate and pull the battery out to find the ESN or MEID number underneath. Push the "Continue" button and follow any other instructions that your account may require.
Step 7
Use your new cell phone like you would any other phone.