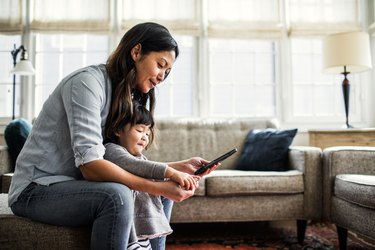 In September 2018, MetroPCS rebranded as Metro by T-Mobile in order to rebrand the prepaid cellphone service. Metro by T-Mobile continues to offer prepaid plans, but you can also sign up for affordable monthly plans similar to those offered by competitors. Most newer cellphones can be transferred through T-Mobile's MetroPCS BYOD program, but you'll first need to check compatibility and make sure your device is unlocked.
MetroPCS Bring Your Own Phone
Metro's Bring Your Own Program plan lets you transfer compatible phones to the service. The first, and perhaps easiest, step is to make sure you live in one of T-Mobile's service areas. You'll then need to check your phone's compatibility. You can do that by going to metrobyt-mobile.com/shop/phones/details/prepaid-sim-card and inputting your IMEI number, which you can usually find in your phone's settings menu.
If your phone is compatible, you'll then need to make sure it's unlocked before you can bring it over as part of the Metro bring your own phone program. You can check this by switching your SIM card with one from another carrier to see if it works. However, if you drop by a T-Mobile store, they can also check for you. Almost all newer iPhones and Samsung Galaxy phones will work with T-Mobile as long as they're unlocked.
Network Compatibility Considerations
The biggest issue with compatibility is that different carriers use different types of networks. Sprint and Verizon use CDMA, while AT&T and T-Mobile use GSM. Older cellphones were only compatible with the service they were designed to work on, complicating programs like T-Mobile's Metro BYOD. Newer phones are built to run on both types of networks.
But this change doesn't mean newer cellphones are Metro compatible phones. Unless your phone was listed as "unlocked" when you purchased it, chances are it's locked. "Locked" simply means it has a piece of software that disallows it from being used on other networks. Unlocking it opens it up to operate with other carriers, allowing you to take advantage of better prices.
How to Unlock Your Phone
Metro compatible phones will need to be unlocked before you can use them as part of the T-Mobile Metro BYOD program. The process depends on your carrier. Here are some of the most popular:
Verizon – If you have a newer 4G LTE phone, it should have a SIM card slot that's already unlocked. For all else, you'll just call 800-711-8300.
AT&T – Begin the process to unlock here: att.com/deviceunlock/. If you have a 4G LTE Verizon phone, it should be unlocked already.
Sprint – You can unlock a Sprint phone through a webchat at sprint.com/en/landings/chat.html or by calling 888-211-4727.
Boost Mobile – Call 888-BOOST-4U (888-266-7848) to request that your phone be unlocked. Some Boost Mobile phones won't work with other networks even after being unlocked.
Switching to T-Mobile Metro
Once you've ensured your phone will work on the T-Mobile network, you're ready to make the switch. You can do this by stopping by a store and letting an associate know you're interested in taking advantage of the Metro bring your own phone program. You'll have to purchase a SIM card and let the associate know you want to move your old phone number over.
You can also move Metro compatible phones over to T-Mobile without visiting a store. You can order a SIM Card Kit through the Metro by T-Mobile website after verifying compatibility and making sure it's unlocked. You'll just need to choose a plan and input your information. Using this kit, you can switch your SIM card out yourself.