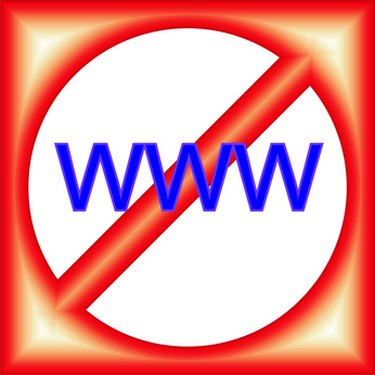 The FortiGuard Web Filtering service by Fortinet, Inc., is a security product network administrators use to manage and safeguard a network by establishing Internet browsing restrictions. Commonly, FortiGuard is used at educational institutions and workplaces to keep Internet users from accessing inappropriate or unsuitable content. FortiGuard also features a proxy avoidance setting that keeps Internet users from accessing proxies, which are websites used to bypass browsing restrictions on a network. If your network administrator is operating FortiGuard without proxy avoidance, then you will be able to use a proxy to access the websites that are blocked on your network.
Proxy Lawler
Step 1
Visit the Proxy Lawler website to bypass FortiGuard restrictions when proxy avoidance settings are not enabled (see Resources). Proxy Lawler is a free proxy that helps you bypass any type of network filters, including those originating from FortiGuard. With Proxy Lawler, your IP address is kept hidden behind its server so you can surf the Internet anonymously.
Step 2
Type the URL of the website FortiGuard is keeping you from accessing in the text box displayed at the bottom of the Proxy Lawler page.
Step 3
Click on the "Go" tab beside the text box and Proxy Lawler will redirect you to the previously blocked website through its server.
Problock.info
Step 1
Go to the Problock.info site and use its service to bypass FortiGuard filters when proxy avoidance is not activated (see Resources). Problock.info is a cost-free proxy that enables you to access websites that are being restricted by FortiGuard while keeping you safe and secure behind its server.
Step 2
Enter the URL of the website you are unable to visit due to the FortiGuard restrictions on your network in the text field located in the lower region of the Problock.info page.
Step 3
Click on the "Browse" tab beside the text field and Problock.info will send you to the website FortiGuard was filtering.
Top Free Proxy
Step 1
Navigate to the Top Free Proxy website and circumvent the FortiGuard restrictions on your network (see Resources). Top Free Proxy is a free-to-use proxy that gives you the ability to bypass restrictive settings on networks that operate filtering products such as FortiGuard. With Top Free Proxy you are also able to browse the Net anonymously and securely.
Step 2
Click on the sentence that says "Here is the web proxy form. Start Browsing!!" displayed on the third paragraph. Once you click, a text bar will be displayed. Type the web address that FortiGuard is filtering in the text bar.
Step 3
Click on the "Go" tab beside the text bar and Top Free Proxy will fetch the website that FortiGuard was keeping you from being able to visit.