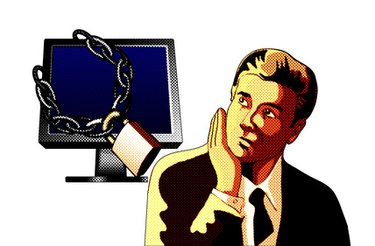 It is common for Web pages to get locked outside of a network due to the content they display, bandwidth they take or amount of traffic they receive. Generally, network administrators lock such Web pages by utilizing filtering software such as Websense, Web Filter or Webwasher. However, when filtering settings are established in a network, it isn't uncommon for Web pages that pose no danger to the network or host appropriate content to become locked outside of the network. When this occurs, you can use an array of proxy websites to unlock Web pages to gain access to them.
Unlock Web Pages With Aplusproxy
Step 1
Visit the Aplusproxy website to unlock Web pages when browsing online. Aplusproxy is a free proxy network that provides reliable and secured browsing while unlocking sites that are prohibited by Web locks stemming from the network you are working on.
Step 2
Type the URL destination you wish to unlock in either text box in the middle region of the screen.
Step 3
Click the "Browse" tab beneath the text box, then the desired Web location will be unlocked and you will be redirected to it.
Unlock Web Pages With iSurfProxy
Step 1
Navigate your Internet browser to the iSurfProxy Web page. ISurfProxy is an anonymous proxy network that unlocks websites, enabling users to regain previously restricted access to desired Web pages.
Step 2
Scroll to the bottom of the screen and enter the locked URL address into the text box.
Step 3
Select the "Go" tab on the right side of the text box. You then will be redirected to the unlocked website.
Unlock Web Pages With TheProxyfree.com
Step 1
Utilize TheProxyFree.com website to unlock Web pages and regain access to locked websites. TheProxyFree site is a free proxy service that lets Internet surfers access locked sites anonymously and safely because it hides your personal information and IP address.
Step 2
In the midregion of the screen where it reads "Web Address" in red font, locate the text box and type the locked site's URL address into it.
Step 3
Select the large "Go" tab to the right of the text box. Your desired website will be unlocked and you will be granted unrestricted access.