Any time you create or modify a file, your computer stamps an electronic date on it. Right-clicking a file and selecting "Properties" will reveal these dates. This is a handy function for organizing your files and folders, and you can manipulate it to give your Microsoft Word documents the creation date of your choice.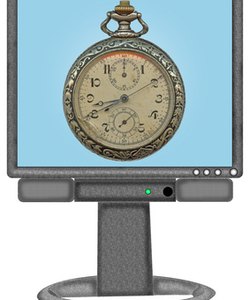 Step
Open the "Date and Time Properties" window by double-clicking the clock in your task bar. Alternatively, open the "Control Panel" and double-click "Date and Time."
Step
Change the month, the year or both. Use the desired creation date for your Word document.
Step
Click "OK."
Step
Open your document in Word.
Step
Click the Windows icon button in the top, left corner of the screen. Place the cursor over "Save As" and select a file type. This opens the "Save As" dialog box. Alternatively, press F12.
Step
Choose a new location for your file but keep the same file name.
Step
Click "Save." Your document will have a creation date that matches the date on your computer.
Step
Open the "Date and Time Properties" window and correct the date.