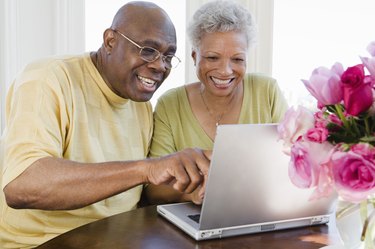 Your Mac comes with dozens of pre-installed font packages. But, you can also easily install new ones from font websites all over the Internet. If you install multiple new font packages, your computer's font book can become crowded and unorganized, making it hard to find the fonts you want to use. Luckily Mac computers let you change the titles of your font packages to help you remember where to find your favorite fonts.
Step 1
Click the magnifying glass in the upper right hand corner of your screen to open "Searchlight."
Step 2
Type "Font Book" to automatically search for it. Once the searchlight finds the program, click on its name to open it.
Step 3
Locate the font you would like to edit.
Step 4
Hold "Control" and click the name of the font and select "Reveal in Finder" from the dropdown menu. Your computer's Finder will open the font file automatically.
Step 5
Hold "Control" and click the name of the font then select "Get Info" from the dropdown menu. The file information will open in a new window.
Step 6
Type the new name of the font into the box labeled "Name & Extension."
Step 7
Close the "Info" window. The name of the font will be changed and saved automatically.