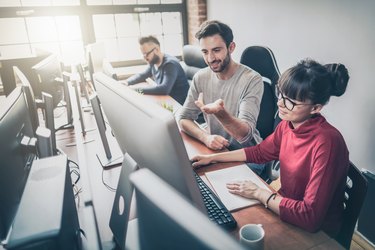 Adobe PDF is a file format that stores a page of text and pictures as a single digital image. You can view and print a PDF using the free Adobe Reader app, but you can't modify the page layout or page contents using the app. If you'd like to change the margins of a PDF page for printing, you can do so by specifying a custom scale for the page in the Print dialog. To change margins on a PDF and have the contents of the page adjust automatically, it helps to have access to Microsoft Word.
Edit Margins for a PDF
People who are familiar with Microsoft Word are familiar with editing the size of page margins from the Page Layout tab. Changes to margins affect the contents of the page in Word, which can be useful when you want to control how many pages are included in a document. Adobe Acrobat Reader is designed to display content and does not include commands to change the layout of a page. You can edit a PDF's margins or add margins to a PDF when you print it out by scaling the page when printing, but this does not change the number of pages that are printed.
Export PDF to Word
To have more control over the page layout of a PDF, you can export the file to a Microsoft Word document. The Export command is available in the Tools sidebar of Acrobat Reader. Adobe currently requires users to purchase a monthly or annual subscription to complete the export operation. If you chose this option, text that has been scanned within the PDF converts to Word text and reacts to changes to the size of the page margins.
Open PDF in Word
Beginning with Word 2013, you can open a PDF file directly in Word without needing to export it from Acrobat Reader. Text is treated as text, and the contents of pages change if you modify the size of the page margins. However, during the conversion to Word, the format of the PDF may be changed, and page breaks may be different from the original.
Copying and Pasting Text
If the format of the PDF is not of primary importance, you can also change the page margins by copying the contents of the PDF and pasting them into a Word document or other type of text file. Open the PDF in Acrobat Reader and select "Copy File to Clipboard" from the Edit menu. You can then paste the PDF contents into another application such as Word or Notepad and adjust the margins. With this method, some of the PDF formatting is not transferred.