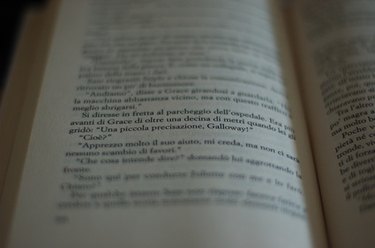 Recipients of PDF files can view the information, but are not able to make any changes without the help of professional software. If you are working with a PDF file and need to make adjustments to the document layout, there are several ways to accomplish this task without converting the document to a new file format. For example, if the print margins are incorrect or unattractive in your PDF document, adjust them by changing the "view" of the document.
For Print
Step 1
Open your file in Adobe Acrobat. From the "Document" menu, click "Crop Pages."
Step 2
Change the page margins by entering in the top, bottom, left and right margin sizes in the command boxes provided. Click the box to "Constrain Proportions" to maintain the formatting of your document.
Step 3
Preview your document changes in the image preview window of the dialog box. Once it looks as desired, click "OK." Save the changes to your PDF file.
For Viewing
Step 1
Open your PDF file in Adobe Reader. Click "File" then "Properties."
Step 2
Click the "Initial View" tab in the Properties dialog box. Click the drop-down menu next to "Magnification."
Step 3
Select the document magnification to "Fit Visible." The margins in your document will disappear, leaving only the text in the PDF available for viewing. When recipients open this PDF file, no margins will be visible.