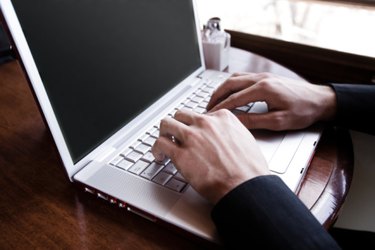 PDF printing allows you to quickly convert documents or screen shots to PDFs without the help of premium software. Depending on your screen shot or document, your output file can lose integrity in the file conversion. Avoid sending unreadable text or images by adjusting the output specifications of your PDF printer. When a document is too bright, create a darker ouput from the Adobe Document PDF Properties menu. Save the new settings for use on future PDF-conversion projects.
Step 1
Open the document you want to print as a PDF. If you are printing a website or screen shot as a PDF, open the web page.
Step 2
Click the "File" menu then select "Print." Select "Adobe PDF" from the Printer Name drop down menu. Click "Properties."
Step 3
Click the "Adobe PDF Settings" tab. Click the "Edit" button next to "Default Settings." A new dialog box will appear.
Step 4
Click "General" in the left menu pane. Adjust the document resolution from 600 to 800 dots per inch. Increasing the resolution shows more detail and contrast between light and dark colors in your document. This will make the image appear darker when printed. Click "Advanced" then select the box titled "Convert Gradients to Smooth Shades." The overall appearance of your PDF will darken, but will not lose quality given the increased resolution.
Step 5
Click "OK." You will be prompted to save your changes. Save your changes by entering a name for the PDF print settings. Click "OK" then "OK" in the print dialog box to begin your PDF file conversion.