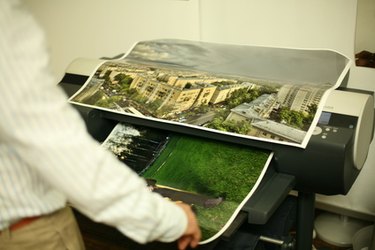 If you have .PDF file documents you want to print in a large poster-sized format, you can do so if you have access to a plotter. A plotter is a wide-format printer that is usually used to print blueprints, technical drawings and even maps. However, you can use a plotter to print just about anything you want. Many .PDF file documents are scalable, which means you can increase the printed size of the document without distorting text and graphics. Resizing and formatting your .PDF files to print on a wide-format plotter only takes a few mouse clicks.
Step 1
Open the .PDF file you wish to print. Your .PDF file reader software will display the document.
Step 2
Click on the "Page Setup" option on the "File" menu.
Step 3
Select the "Custom" option from the list of available types in the "Paper Size" drop-down box. Enter the width and height dimensions in the corresponding fields. For example, posters are 30.5 inches by 38 inches. So, if you want to print a poster-sized document, enter "30.5" in the width field and "38" in the height field and click the "OK" button.
Step 4
Click on the "File" menu tab and the "Print" option (or press the "Ctrl" and "P" keys at the same time). When the "Print" dialog box appears, select the wide-format plotter from the list of available printers in the "Name" drop-down box.
Step 5
Enable the "Auto-Rotate and Center" and "Choose paper source by PDF page size" options by clicking the check boxes. Click the "OK" button.