To make a PDF file a read-only file, you adjust the security settings in the document using Adobe Acrobat. The settings allow you to prevent changes to document, printing, copying or extracting changes. You can choose a password security setting so that anyone can read it, but only someone with a password can change it. Other security choices restrict any access to the document to a select email list.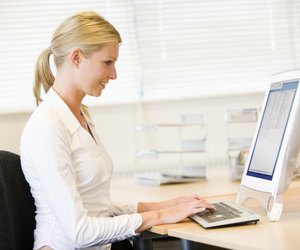 credit: BananaStock/BananaStock/Getty Images
Step
Use Adobe Acrobat to open the PDF file you want to restrict as Read-Only. You can adjust security settings only after you convert a file to a PDF.
Step
Open "Properties" under the File menu. In the new window that opens, select "Security."
Step
Select "Password Security" in the dropdown menu for "Security Method." This is the simplest method to create a read-only document. A new window opens for Password Security Settings.
Step
Leave unchecked the option to require a password to open the PDF if you don't want to restrict anyone from reading the file.
Step
Checkmark the option under Permissions to "Restrict editing and printing of the document." Enter a password that will be required to make any changes in the file or its security.
Step
Select "None" in the drop-down options next to "Printing Allowed:" to prevent printing. Choose "Low Resolution (150 DPI) to allow low quality printing.
Step
Select "None" for "Changes Allowed." Your other choices include allowing a viewer to fill in form fields and add comments with attached notes.
Step
Leave unchecked the option to enable copying of text, images and other content. Then click "OK." In a new window, verify your password to enable the security settings.