If you turn on Word Tracking in Microsoft Word 2013, the software keeps track of the changes you make to the document. Word allows you to change most aspects of the Track Changes feature, including the font color it uses for each element. Using different colors can help you -- or someone who is reviewing the document -- better visualize the edits. You can even prevent Word from tracking specific changes.
Step 1
Open the document you want to edit in Word 2013 and switch to the Review tab. Click the small arrow in the lower-right corner of the Tracking group to display the Track Changes Options dialog.
Step 2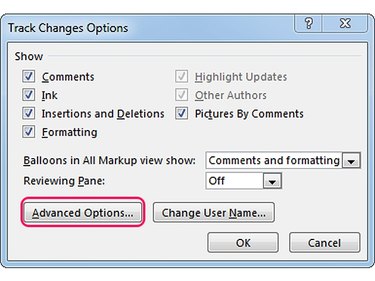 Click the Advanced Options button to open the Advanced Track Changes Options dialog.
From the Track Changes Options dialog, you can hide specific changes -- Insertions and Deletions for example -- by unchecking the boxes in the Show section.
Step 3
Change the color of the various Track Changes features -- Markup, Moves, Table Cell Highlighting, Formatting and Balloons -- by selecting a different color from each Color drop-down box. If you select the By Author option, Word uses a different color for each user who edits the document.
To disable some of the features, uncheck their boxes. For example, you can prevent Word 2013 from tracking moves and formatting changes.
Step 4
Change the formatting of some Track Changes elements -- change the way insertions or deletions are displayed throughout the document, for example -- by selecting different options from the appropriate drop-down boxes.
Step 5
Click OK to save and apply the new Track Changes settings and close the Advanced Track Changes Options window. Click OK in the Track Changes Options dialog to close it.