The tracking and commenting features in Microsoft Word 2013 are a great way to keep up with revisions to a document. When you're finished, however, you may want to get rid of the underlining, strikethroughs and comment balloons peppered throughout your document. To remove these markups from your final document, you must either accept or reject the changes and then delete any comments.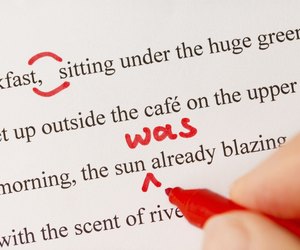 credit: Pixsooz/iStock/Getty Images
Step
Open your document and select the "Review" tab.
Step
Click the arrow beneath the "Accept" button in the Changes section of the ribbon, and then select "Accept All Changes." Word removes the markups and applies the most recent changes to the document. Alternatively, you can reject all the changes by clicking the arrow next to the "Reject" button and selecting "Reject All Changes."
Step
Click the arrow beneath "Delete" in the Comments section of the ribbon if the document contains comments you want to remove. Select "Delete All Comments" to remove the comments.
Step
Save the document under a new name if you want to avoid overwriting the original with the markup; otherwise, save the document as you would normally.