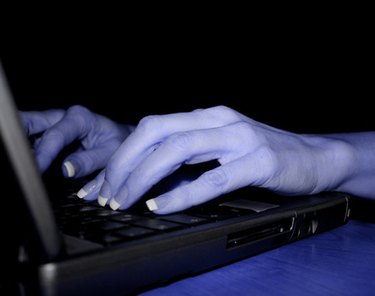 Crop marks are small lines in the corner of an electronic document that indicate where it should be trimmed once printed. Crop marks are usually added to a document in a page layout or design program and will transfer over when the file is converted to PDF (Portable Document Format). If you don't want the crop marks to appear on the PDF, you can manually remove them using Adobe Acrobat.
Step 2
Click "File, Open." Select the PDF document you want to edit. Click "Open."
Step 3
Select the "Tools" menu. Choose "Advanced Editing," then "Crop Tool."
Step 4
Place your cursor to the right edge of the top left crop mark on the page. Click and drag to the left edge of the bottom right crop mark. This will form a rectangle around the page contents; the crop marks from the visible, printable area from the PDF will be excluded.
Step 5
Click and drag the rectangle's drag handles to adjust the size of the PDF's printable area. For instance, if you can still see part of a crop mark inside the large rectangle, resize the rectangle.
Step 6
Double-click the cropped rectangle. This will bring up the "Crop Pages" dialog box, which will show the margins and other settings of the rectangle you just selected.
Step 7
Select "All" under "Page Range" if you want to remove crop marks from all the pages in a multipage document. You also can choose to apply the changes to certain pages.
Step 9
Click "File, Save as" to save the file.