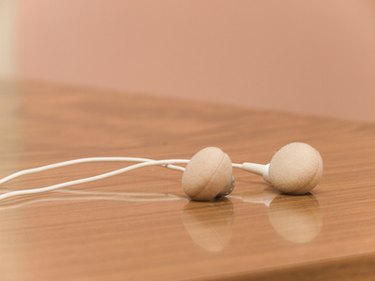 Earbud headphones are no longer plain black or white. Interchangeable sleeves allow for extra comfort, extra style and extra protection. It is necessary to replace earbud sleeves from time to time in order to get rid of dirt and bacteria. With the range of textures and colors available, earbud headphones can become your newest fashion accessory matching your mp3 player or your lifestyle.
Step 1
Unplug the earbud headphones from your mp3 player or computer.
Step 2
Remove the sleeve on each earbud headphone by gently lifting one of its sides and sliding it off the earbud. It should come off fairly easily.
Step 3
Soak a cloth or paper towel in a soap and water solution. Squeeze out any excess water.
Step 4
Clean each earbud with the cloth or towel. Wipe the earbuds dry with a dry cloth or paper towel. If you choose to also disinfect, pour some disinfectant such as hydrogen peroxide onto a dry paper towel, or use a pre-soaked disinfectant towelette.
Step 5
Wipe the earbuds dry and remove any remaining residue or soap with the dry towel.
Step 6
Stretch each replacement sleeve a little with your fingers. Do this gently so that they don't rip.
Step 7
Hold one earbud and grab the stretched replacement sleeve. Using your finger, hold the sleeve open and slide it onto the earbud. Adjust it so that the entire earbud is covered correctly. If necessary, use both hands to stretch open the sleeve while placing the earbud on a steady surface. Repeat for the second earbud.