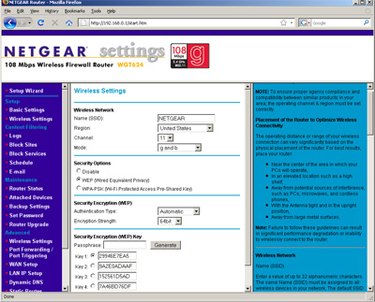 Netgear routers are popular home networking devices. Occasions may arise when security settings need to be changed on the router. For example, security settings will need to be changed to open a port to the Internet or to change the WEP or WPA security key necessary to access the router and the network.
Step 1
Using a computer with a local area connection to the router, log in to the router administration interface. To accomplish this, first open a browser window and enter the router's local IP address. This IP address will be documented in the Netgear Router User Guide and on the installation CD. Most Netgear routers use either 192.168.1.1 or 192.168.0.1.
Step 2
Enter the administrator's user ID and password at the login prompt.
Step 3
Once logged in to the administration interface, the Basic Settings page is the point of entry. Other page options are available on the left navigation menu. On the Basic Settings page, the IP address may be set as dynamic or static. Also, the MAC address and the Domain Servers are specified on this page.
Step 4
To set wireless security for the router -- for example, to change the WEP key -- select "Wireless Settings" from the left navigation menu. On the Wireless Settings page, WEP may be enabled, disabled or specified with a preset key.
Step 5
Next, create a Security Encryption Key. To do this, enter a word in the "Passphrase" field and click "Generate." The application will automatically generate four encryption keys.
Step 6
Select one of the generated keys for your encrypted passcode by clicking the radio button next to the option. Click "Apply" to save. The wireless security settings have now been specified.
Step 7
To connect a computer to the network, enter the encryption key selected during this configuration.