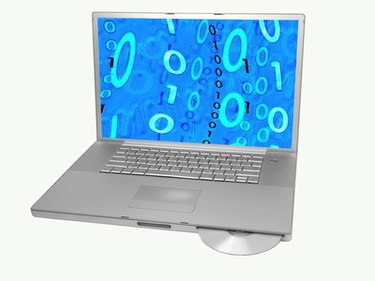 Laptops are very customizable. There is a very handy technique that has been a feature on laptops for many years but is still not widely known. It comes in handy for a lot of reasons. For anyone who wants to relax and watch a movie on their laptop or read an ebook, the ability to rotate their laptop's screen from vertical to horizontal makes these activities so much easier. This explanation applies to Windows Vista and Windows 7.
Step 1
Hold down the "Ctrl" and "Alt" keys and press the "Left Arrow" key. This will rotate your laptop screen view. Return to the standard screen orientation by holding down the "Ctrl" and "Alt" keys together and pressing the "Up Arrow" key. If you were unable to rotate your screen with "Ctrl + Alt + Left," go to step 2.
Step 2
Right-click on the laptop's desktop and select "Personalize."
Step 3
Find the "See Also" menu on the left side of the screen and click "Display."
Step 4
Click on "Change Display Settings" and choose "Orientation" from the drop-down menu.
Step 5
Choose from "Landscape," "Portrait," "Landscape (Flipped)," and "Portrait (Flipped)" from the box that appears. "Landscape" is the standard view. "Portrait" changes the view to sideways, leaning to the left. "Landscape (Flipped)" shows a sideways view leaning to the right. "Portrait (Flipped)" turns the screen upside down.
Step 6
Click "Apply" and then click "OK." Your screen orientation is set to whatever version you like.