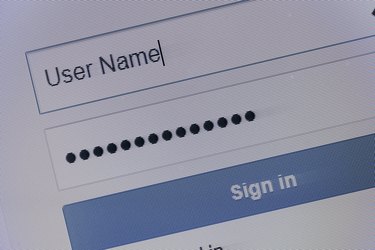 The username you select when you initially create your AOL account is your primary master username and cannot be changed or deleted. However, if you no longer want to use one of the additional usernames connected to your primary account, you may delete it at any time and select a new one. This enables you to change the username you use for AOL services. In addition, you can change the display name for any account, which is the name people see when you send them an email.
Delete a Username and Create a New One
Step 1
Log in to "My Account" using your master username and password. Enter the answer to your Account Security Question and click "Continue."
Step 2
Select "Manage My Usernames" under Username Options.
Step 3
Click the "X" in the Delete column next to the username you want to remove in the Additional Usernames section. Click "Delete" to confirm that you want to remove the account.
Step 4
Type the username you wish to use in the Add a Screen Name box in Manage Usernames. Click the "Add" button. If the username is not available, you can click "Suggest a Username" or enter another option.
Step 5
Select the appropriate age category when you have found an available name that you want to add. A confirmation message appears to verify the change.
Change Your Display Name
Step 1
Log in to AOL with the username and password for which you want to change your display name.
Step 2
Select "Options" and then click "Mail Settings."
Step 4
Enter the name you want people to see when they receive your email messages in the Display Name box.