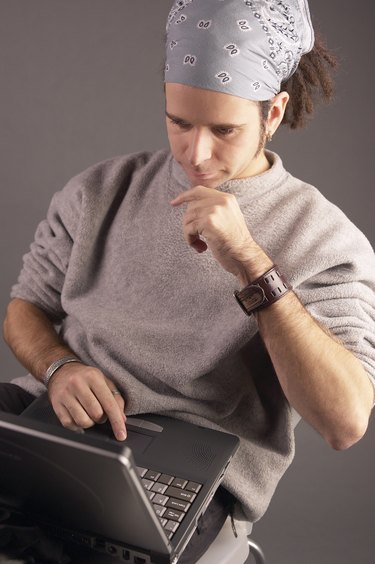 A sound card is a device that translates data into signals that can be output as audible sound to speakers or headphones. Sound cards usually have several input and output ports that are accessible from the back of a computer's case. Some sound cards are self-contained, meaning they plug into the motherboard through a PCI slot, while other sound cards are integrated into the motherboard itself.
Checking a Sound card with the Dxdiag Command
Step 1
Click on the "Start" menu and then click "Run."
Step 2
Type "dxdiag" in the run box, then click "Ok."
Step 3
Click on the "Sound" tab or tabs on the diagnostic pop-up window for detailed information about your sound devices.
Checking a Sound Card with the Device Manager
Step 1
Click "Start," then click "Control Panel."
Step 2
Double click on "Device Manager."
Step 3
Locate "Sound, Video and Game Controllers" in the list of devices, and click the plus sign to expand the list.
Step 4
Right-click on the audio device listed and select "Properties." The various property tabs will have information about the sound card, its driver and whether it is working properly.
Physical Identification of a Sound Card
Step 1
Turn off the computer and unplug the power cable.
Step 2
Use a screwdriver to take out the screws holding the left side panel of the case, and set the panel aside.
Step 3
Locate the sound card inside the computer by noting which device your speakers are plugged into. If your speakers are plugged into the motherboard, you have an integrated sound card. If they are plugged into a card in a PCI slot (small, light-colored slots along the back of the case), it is a dedicated sound card.
Step 4
Inspect the sound card for more information. An integrated sound card may not have any identifying information available, but a PCI sound card may have a sticker citing its manufacturer, the card type or other information.
Step 5
Close the case when finished inspecting the card.
Identifying an Audio Device on a Mac (OSX)
Step 1
Click on the "Apple" menu.
Step 2
Click on "About this Mac."
Step 4
Click "Audio" in the list of devices on the left-hand side of the window. This should produce a list your audio devices.