GeForce is a product line of video cards produced by Nvidia, a popular graphics card manufacturer. If your computer has a GeForce video card installed, it can be useful to determine the exact GeForce model so you can search for driver updates and support. Identifying your GeForce card can also be useful if you plan on running high-end software and computer games, since many programs require graphics cards that meet certain minimum specifications. The steps below will work for Windows XP, Vista, and 7.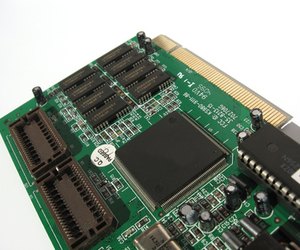 credit: video card image by Florin Capilnean from <a href='http://www.fotolia.com'>Fotolia.com</a>
Use Dxdiag to Check your Video Card
Step
Click "Start," "Run," type "dxdiag" in the text box and then click "OK." For Windows Vista and 7, type "dxdiag" into the search field and press "Enter."
Step
Wait a few moments until the system diagnostic is complete. A diagnostic window will appear and a progress bar will fill as the diagnostic progresses.
Step
Click on the "Display" tab. Information about your video card will be displayed here.
Check your video card using Device Manager
Step
Click "Start," right click "My Computer" or "Computer," select "Manage," wait for a system management window to open and then select "Device Manager" in the list on the left side of the window. For Windows Vista and 7, type "device manager" into the search field and press "Enter."
Step
Expand the "Display Adapters" field in the right side of the Device Manager window. Your GeForce card will be listed here.
Step
Right click on your GeForce card and select "Properties." The name of the card and other information will be displayed in this window; click the "Driver" tab for information about your card's installed drivers.