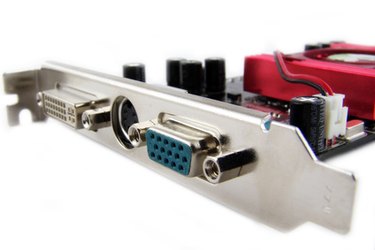 ATI is a popular graphics cards manufacturer which enables users to manage high resolution picture quality and games. Though it has had major competitors throughout the years, ATI remains a prominent video card manufacturer worldwide. However, if you need to uninstall ATI drivers for troubleshooting purposes or to upgrade your current graphics adapter, doing so can be effectively accomplished through the use of Windows Safe Mode.
Step 1
Start up your computer and press "F8" to launch the Windows Advanced Options screen. Select "Safe Mode" from the list of options available and press "Enter." This will launch Windows into Safe Mode, a simplified session designed for troubleshooting purposes.
Step 2
Click the "Start" menu, followed by "Control Panel." Click the "System" icon and select the "Hardware" tab. Select "Device Manager" to launch a list of all active hardware on your computer. To access the Device Manager from Windows Vista, select "System and Maintenance" followed by "Device Manager" from the Control Panel applet. From Windows 7, "System and Maintenance" has been renamed to "System and Security." All other steps and procedures remain the same as Windows XP's method.
Step 3
Expand the "Display Adapters" list and select the ATI graphics card. Click the "Action" menu at the top of the window, followed by "Uninstall." Allow your operating system to delete your card's device drivers and restart your computer to complete the process.