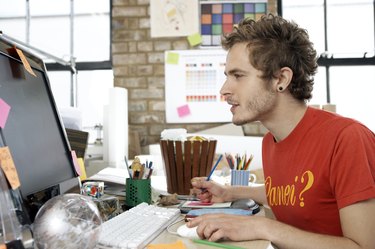 Realtek makes a wide variety of audio components from sound cards to speakers. Each of these audio components will have a device driver that allows it to work with your computer. To detect the Realtek drivers on your computer's hard drive and the registry, you can use a program called the Device Manager that manages all drivers in the Windows operating system.
Step 1
Right-click on the icon on your Windows desktop that reads "My Computer." Click "Properties."
Step 2
Click the "Hardware" tab. Click the button in this tab that is labeled with the words "Device Manager."
Step 3
Right-click inside the Device Manager window.
Step 4
Click "Scan for Hardware Changes." Device Manager will refresh its listing of drivers, displaying new ones that have been installed since the last refresh. This will help ensure that Device Manager is displayign a list of every Realtek driver on your computer.
Step 5
Click "Audio Controllers." The Realtek drivers that are on your computer will be displayed under this heading.