How to Check the Ink Level of a Canon Inkjet Printer. The Canon Photo Inkject printer is simply user friendly, which makes printing digital photos at home easy with the use of the easy-photoprint software. With its four color options and laser features, printing text and documents done in colorful Web pages can be fun. The main key to its impressive speed and high photo quality is its Canon Full-photolitography Inkjet Nozzle Engineering (FINE) advanced print head technology. It uses a multi-nozzle print engine that ejects consistent and microscopic ink droplets. Have convenient USB connectivity and PC and MAC compatible.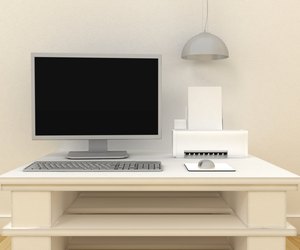 credit: ChesiireCat/iStock/Getty Images
Step
Click "Start." From the start menu choose programs.
Step
Click "Programs." Then choose "BJ Printer," then "BJ Printer Monitor." The Canon BJ Printer Monitor window will appear.
Step
Click on the Canon icon. This will take you to the printer info menu.
Step
Click "Start Status Monitor" from the Printer Info Menu. The Canon Start Status window will appear.
Step
Click the "Ink Information" Tab to view the levels of ink in each tank in the printer.