When you use programs and surf the Internet, your computer saves files into cache so that your computer can recall them faster. However, when your computer has many files saved into cache, your computer may perform at a slower pace or it may cause programs to shut down. This can cause you to lose work and valuable time. It is important to clear your cache routinely to keep your computer running at top speed.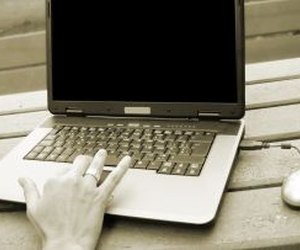 Step
Launch Internet Explorer.
Step
Click the "Tools" menu and select "Internet Options."
Step
Select the "General" tab and click "Delete" under Browsing History.
Step
Check the boxes next to "Temporary Internet Files," "Cookies" and "History," and click the "Delete" button.
Step
Click "OK."
Step
Launch Mozilla Firefox.
Step
Select the "Firefox" menu, choose "Options" and choose "Options" again from the menu that slides out.
Step
Click the "Privacy" tab and choose "Settings."
Step
Check all the boxes under the History section and click "OK."
Step
Choose the "I Close Firefox" option in the Keep Until drop-down menu.
Step
Click "OK" and Close Firefox.