An Invisible Shield cover is a transparent plastic cover that is also called a "skin." The company Zagg makes the Inivisible Shield. You can purchase it from the website to fit a wide variety of electronic devices, including the iPhone, iPod, iTouch and iPad. The Invisible Shield is scratchproof, even when a user rubs the end of a key across a protected screen. Keep in mind that once you remove the Invisible Shield it may be difficult to reapply it to your advice. You may need to purchase a new one.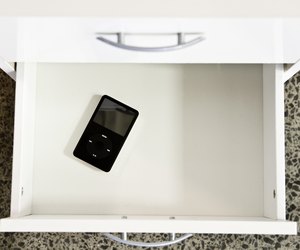 Step
Take the Invisible Shield cover off of your iPhone or iPod by peeling the corner of the shield back and slowly pulling it off the device.
Step
Turn the cover over with the sticky side facing up.
Step
Pull a strip of matte-finish, transparent tape (as opposed to the translucent, glossy kind) off the roll.
Step
Ask a friend to hold the Invisible Shield in place for you on a flat workspace.
Step
Place the sticky side of the tape against the sticky side of the Invisible Shield. Pull up the tape. As you do, you will lift dirt and dust from the Invisible Shield.