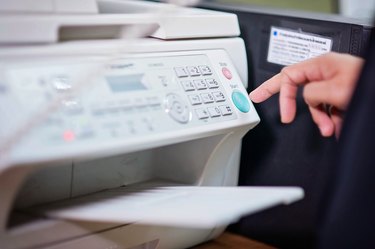 How to Clear a Paper Jam on a Canon Inkjet Printer. For many people, maintaining a Canon Inkjet Printer in the home or office can be expensive and frustrating. There are numerous error messages and they always come at inconvenient times. Many Canon printers today have LCD monitors to help us understand problems that arise, however, many inkjet printers do not come with such monitors. Most of us do not read the Canon Inkjet Printer manuals thoroughly and have little to no idea what the blinking error light means. Paper jams are among the most common problem with Canon Inkjet Printers. Follow these instructions to learn how to clear a paper jam on a Canon Inkjet Printer:
Step 1
Protect yourself from shock. Disconnect the power cord from the back of the Canon Inkjet Printer. This is an important step when working inside ANY electronic device.
Step 2
Unhinge the back access panel of the printer. It seems repetitive to say this, but this door will be in the BACK of the printer.
Step 3
Look through the opened back panel and look for paper. Remove any and all paper you find jammed there.
Step 4
Close the back access panel. Make sure that it latches into place and looks the same way that it did before you opened it.
Step 5
Find the front or top access panel. This is the panel you would lift to change ink cartridges. Open this access panel. If the carriage that holds the ink cartridges moves, then you forgot to unplug the printer, go back and do that now. Look for paper that may be jammed in this area of the printer.
Step 6
Remove any paper you find jammed here. When pulling from the front there will be resistance from the paper feeder. Pull slowly or the paper will rip and create a more stressful problem.
Step 7
Close the front access panel. Make sure that it falls or latches back in place. It should look the same way that it did before you opened it.
Step 8
Plug the printer's power cord into the wall outlet, and attempt to print again. If the printer prints the job, then you have successfully removed the paper jam.