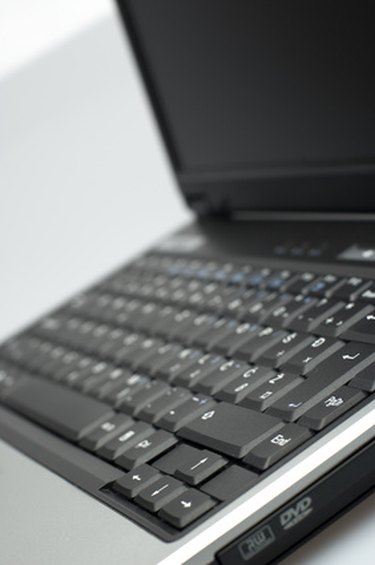 There are a few different things you can do if you need more memory on your laptop. After all the downloads, uploads, transfers and web browsing, you may notice your computer's performance has slowed down. Or even worse, you may not be able to install a vital program to your computer because of lack of space. If you don't want to upgrade your memory chip or buy an external hard drive for more memory, just clear some of the old stuff.
Step 1
Find the hotkey code for your laptop's setup screen. Each laptop brand has a different code that you can use to restore your system to factory settings. Find this code in the user's manual; otherwise an Internet search of your computer brand should yield a result. Most codes consist of an "F" key (for example, "F8," "F9," "F10"), and maybe the "Esc" or "Ctrl" keys.
Step 2
Shut your computer off and make sure it is plugged into a power outlet. Turn your computer back on and tap the hotkey code as your computer is starting up. When done correctly, you'll be brought to a screen that gives you the option to restore your system to factory settings. Choosing yes will bring your computer back to how it was when you bought it. Everything you added later will be gone. If you don't want to completely remove everything, clear some memory manually.
Step 3
Open "My Computer" and double-click on your local drive. It's usually labeled "C:."
Step 4
Locate the "Temp" folder and open it. Right-click, hold and drag your mouse over all the files in the folder to highlight them. Once you let go, you'll have the option to "delete" the files. This will remove all the temporary files stored on your computer.
Step 5
Go into "My Computer" and open "My Documents." Either highlight everything and delete it, or right-click on specific files you want to delete. There will most likely be several folders within the "My Documents" folder that have many files. Either delete these folders completely, or open them up and delete files manually.
Step 6
Open your "Start" menu, go to your "Control Panel," and click on "Add/Remove Programs." Here will be a list of all the programs on your computer, and how much memory they are eating up. Go through the list and remove any programs you don't need, but make sure not to remove a vital program to your laptop's operating system. Don't remove the programs that you didn't install in the first place. Your computer will give you the option to restart to completely remove the program, but don't restart until the last step.
Step 7
Close out of any windows you have open, and open up the "Recycle Bin" on your desktop. On the left-hand side you'll see the option to "Empty Recycle Bin." Click on it to empty all the contents of the bin.
Step 8
Restart your computer to completely remove all files and programs.