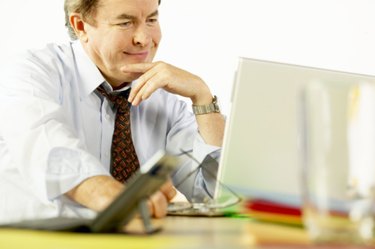 McAfee is a software company that specialized in antivirus and network security software. McAfee programs, like Total Security, monitor any incoming and outgoing network traffic on your computer, and can block hijacking attempts and viruses. McAfee programs also tend to resist changes made to their configuration, and ability to run by viruses and malware. Due to this feature, you may have a difficult time closing McAfee programs when you need to. If you need to close McAfee software temporarily on your computer to install an application or run other security software, you may need to try a few different methods.
Step 1
Right-click the "M" displayed in the right side of the Windows task bar and choose "Exit," "Close" or "Disable." If one of these options appear, double-click the "M" task bar icon and click "Advanced Menu," then "Configure," and "Computer and Files." Click to disable the VirusScan service and any other displayed services.
Step 2
Right-click an empty area of the task bar and choose "Task Manager." Click the "Processes" tab at the top of the Task Manager window. Right-click on any McAfee processes that are running (typical names include "mcafee.exe," "oas.exe," "mctray.exe," "mctskshd.exe" and "virusscan.exe") and choose "End Process" to stop the application. Click "Yes" to confirm, then close the "Task Manager" window.
Step 3
Click the "Start" menu button and type "msconfig" into the Search field, then press the "ENTER" key. Click the "Startup" tab. Click to clear the check mark next to any McAfee programs that are listed in the Startup list. Click the "Services" tab. Click the box to hide all Microsoft Services. Uncheck the box next to any services that display the name "McAfee" in the "Manufacturer" column or contain the name "McAfee," or the name of any McAfee software that is installed on your computer. Click the "Apply" button, then click "OK." Restart your computer.