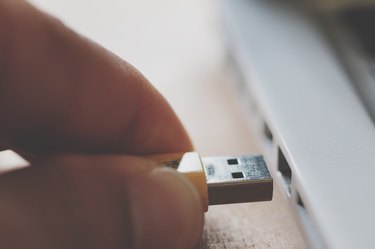 Many people use more than one computer or tablet on a daily basis. This was an exceptional circumstance just a decade ago, but it has become the norm for individuals around the world. For many working professionals, managing a personal and professional computer is common. In a situation where you need to transfer data from one computer to another, you can accomplish this relatively easily using a USB bridging cable. Understanding the laptop and desktop setup required to achieve this goal is straightforward.
Basics of USB Connections
For some computers users, it may come as a surprise to learn that there are multiple forms of USB connectivity to choose from. For example, the type of connection required to transfer information from one computer to another is entirely different from the type of connection used to connect a portable hard drive to a computer. Failure to use the appropriate cable results in technical problems when you attempt to connect your two computers.
A bridging cable is unique in that it features a large electronic circuit in the middle of the cable, as well as dual male connectors. You can locate a bridging cable using a quick internet search. The majority of major retailers offer these cables at affordable prices.
If a search for a "bridging cable" does not yield satisfactory results, search for this hardware using one of its several alternative names. These include "data transfer cable," "networking cable" and "link cable." When in doubt, consult with a tech expert at any major electronics retailer in your area.
Connecting Your Devices
When you are ready to connect a PC to laptop via USB, confirm that each computer has the appropriate software necessary to facilitate the transfer. Older cables may require a software driver before you can establish a connection. However, the majority of new cables features instant plug-and-play functionality, ensuring that you can begin the transfer almost immediately.
After double-checking the driver status, plug the bridging cable into each of your devices. At this point, a file transfer window automatically appears on your computers. If not, you may need to install additional software applications to expedite the transfer.
After you make the connection between the devices, your computer launches the Windows Easy Transfer application. This program, which comes included with the Windows operating system, is primarily designed to facilitate the transfer of files and data between computers in the event of operating system upgrades. However, you can use it for any transfer needs that arise during your computer use.
Important Exceptions to Consider
Apple users whose devices use the USB C hardware protocol are not required to purchase a USB bridging cable. Instead, connect the two devices using a standard USB C-to-USB C cable.
It is also possible to connect to a PC via Ethernet. This is an excellent backup plan in the event a bridging cable fails to work correctly, or you have trouble implementing the connection.