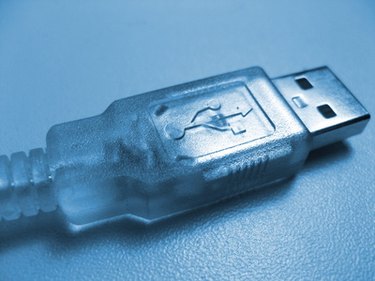 Your TV is not made to display images from your USB drives, but with a few cables and an adapter, it can converted to do just that. You can quickly turn your TV into the largest computer monitor in your house, allowing you to connect and view your USB data on the screen.
Step 1
Examine the 3.5 mm audio to RCA cable. Notice that one side of this cable is single-ended. This end is the 3.5 mm audio cable, while the other end has two plugs, one red and one white. These plugs are the RCA audio cables. Plug the 3.5 mm end of the cable into the green audio port of the computer and plug the RCA audio cables into the matching colored RCA audio plugs of the TV.
Step 2
Look inside the S cable port on your computer and remember the connection pattern. Now, look inside the S cable plug and align it so that the plug matches the port and plug it in. Repeat this step to plug the S cable into the S cable port of the S cable to RCA video adapter.
Step 3
Plug the yellow RCA video cable into the yellow RCA video port of the TV, then plug the other end of the RCA video cable into the yellow RCA port of the S cable to RCA video adapter.
Step 4
Change the TV's input to "video" mode. On some models you can enter video mode by changing the channel to the black-screened station located between the highest and lowest channel. On other TVs, you will need to use the remote control on which, depending on the model, the button will be labeled any one of these: "Input," "Line," "Video," "TV/Video," TV in/ TV out." After the TV is in "Video" mode, you will see your computer displayed from the TV, where you can view your USB files.