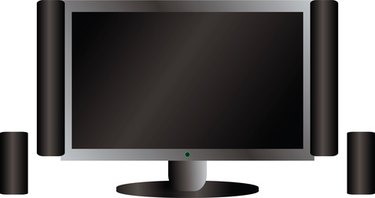 Vizio is an independent TV manufacturer that is often thought to be owned by Sony. This, however, is not true. Vizio produces LCD HDTVs in various sizes ranging from 19 to 57 inches. If you own a Vizio TV and you want to connect your computer to it, you will need a compatible video connection cable. Because Vizio TVs have a direct VGA input, you will not need a special adapter to connect your computer.
Step 1
Shut down your computer and connect one end of the VGA cables into your computer. Nearly all computers have a VGA video output, as VGA is used to connect computers to computer monitors. Tighten the screws on the connection piece.
Step 2
Turn your Vizio off and connect the opposite end of the VGA cable into the video input slot of the Vizio. The VGA input is found on the back of most Vizio TVs. Tighten the screws on the connection piece.
Step 3
Connect audio from your computer to your Vizio. Connect the 3.5 mm cable from your computer's headphone jack into the audio input on the back of the Vizio. This input jack can be found next to the VGA input.
Step 4
Turn your Vizio and computer on. Change the input source on your Vizio remote. There is an "Input" button in the top-left corner of the Vizio remote. Press this button to change video sources.
Step 5
Configure your computer's display settings. You can change settings like the resolution on your computer by going to "Control Panel" and then clicking "Appearance and Personalization." From that screen, click "Personalization" and "Display Settings." Use the highest possible resolution if your Vizio is larger than 27 inches. Your Vizio now displays the content of your computer.