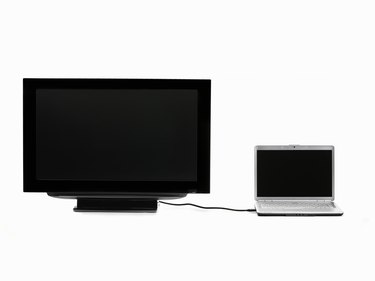 Vizio TVs, which are available at most electronics retailers and are capable of displaying high-definition images, come with a variety of ports that allow you to connect them to various devices, including DVD players, video game consoles, and even personal computers. As long as your computer has a suitable port, like DVI or preferably HDMI, you can connect it to your Vizio TV for use as an external monitor.
Step 1
Plug one end of the HDMI or DVI cable into the computer's corresponding port. Though both are capable of displaying high-definition images, only HDMI can transfer audio as well.
Step 2
Plug the other end into your TV's corresponding port. These will be found in the back. There will typically only be one DVI port, which is shaped like an upside-down trapezoid, but there will usually be multiple HDMI ports. Consult your owner's manual for the exact locations of the ports on your particular model.
Step 3
Set the Vizio to the proper video channel, which should correspond with the video input you used (HDMI 1, HDMI 2, DVI, etc.).
Step 4
Set your computer to display its images through the TV. This can be done by entering the "Graphics Options" by right-clicking on the desktop screen and highlighting and clicking "Output to" followed by "TV."
Tip
As well as using your Vizio as an external monitor, you can also use it as a clone of your monitor, which is useful for presentations, or as an extended desktop, essentially doubling the size of your virtual workspace, allowing you to display content on the TV and separate content on the computer screen.
Warning
Avoid the use of S-video, another type of port. Though relatively inexpensive, it offers subpar image quality that makes the screen too blurry to even read the words on a word processor.