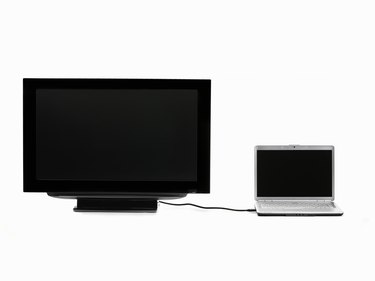 Vizio TVs, which are available at most electronics retailers and are capable of displaying high-definition images, come with a variety of ports that allow you to connect them to various devices, including DVD players, video game consoles, and even personal computers. As long as your computer has a suitable port, like DVI or preferably HDMI, you can connect it to your Vizio TV for use as an external monitor.
Step 1
Plug one end of the HDMI or DVI cable into the computer's corresponding port. Though both are capable of displaying high-definition images, only HDMI can transfer audio as well.
Step 2
Plug the other end into your TV's corresponding port. These will be found in the back. There will typically only be one DVI port, which is shaped like an upside-down trapezoid, but there will usually be multiple HDMI ports. Consult your owner's manual for the exact locations of the ports on your particular model.
Step 3
Set the Vizio to the proper video channel, which should correspond with the video input you used (HDMI 1, HDMI 2, DVI, etc.).
Step 4
Set your computer to display its images through the TV. This can be done by entering the "Graphics Options" by right-clicking on the desktop screen and highlighting and clicking "Output to" followed by "TV."